Das aerotoxische Syndrom hat schon vielen Stewardessen und Piloten die Gesundheit gekostet. Aufgrund ständiger Aufklärung ist die gelegentliche Vergiftung der Kabinenluft nicht mehr zu verheimlichen – nun gibt es einen Film darüber!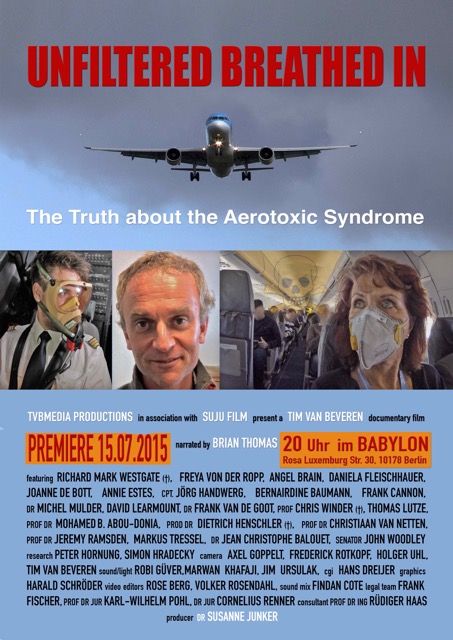 Es ist soweit: am 15. Juli 2015 um 20 Uhr wird unsere Dokumentation "UNFILTERED BREATHED IN - THE TRUTH ABOUT THE AEROTOXIC SYNDROME" im ehrwürdigen Berliner Programmkino "Babylon" Premiere haben. Der Film wird in seiner englischen Originalversion gezeigt. Der Trailer steht auf der Webseite: www.unfilteredbreathedin.com
It's final: on July 15th, 2015 at 8:00 pm our documentary "UNFILTERED BREATHED IN - THE TRUTH ABOUT THE AEROTOXIC SYNDROME" will be released in the honorable Berlin movie theater "Babylon". The film will be shown in its English original version. The trailer is available at: www.unfilteredbreathedin.com.
Hierzu möchten wir Euch persönlich, plus eine Begleitperson gerne einladen. Allerdings verfügen wir nur über eine begrenzte Sitzanzahl, daher möchte ich Euch bitten, mir verbindlich innerhalb einer Woche mitzuteilen ob Ihr oder ob Ihr nicht kommt und ob allein oder zu Zweit.
We hereby would like to invite you personally and one accompanying person. As we have only a very limited amount of seats available, we would like to ask you to reconfirm within the next week if you will participate or not and if you will be coming alone or with company.
Gerne können wir weitere Kartenvorbestellungen entgegen nehmen. Der Preis liegt bei ca. 8 Euro. Wir müssen das nur rechtzeitig mit dem Kino koordinieren. Also daher bitte frühzeitig Rückmeldung geben.
Of course it is still possible to make reservations for further tickets. The price will be 8 Euros. But we need to coordinate this with he movie theater, so therefore give us your timely feedback.
Im Anschluss an den Film wird es eine Podiumsdiskussion mit Politikern und betroffenen Crewmembern im Kino geben und dann gehen wir in eine hoffentlich schöne After-Party in der Gastronomie des Babylon über.
After the film there will be a discussion in the theatre with politicians and affected flight crew members and afterwards we will hopefully smoothly ease into a nice "after party" in the bar of the theatre.
Babylon
Rosa-Luxemburg Str. 30
10178 Berlin
www.babylon.de
Facebook: www.facebook.com/babylonberlin
Wenn Ihr irgendwelche Vorschläge habt, wenn wir unbedingt einladen sollten, bitte mitteilen.
If you have any suggestions who we should invite, please advise us.
Also, sagt bitte schnell und vor allem verbindlich Bescheid. Lieben Dank.
So please reply in a very timely manner. Thank you, appreciated.